Dredging career and social life
In our present society we like to combine our work and social lives in a more natural way. Being away from family and friends tends to lead to feelings of "missing" moments, whether it be a birthday, a highschool graduation, a wedding or just an ordinary gathering with friends during the weekend.
This means that, as opposed to earlier times in the dredging industry where crews tend to be away for many a month, one now works in shorter periods in order to be home on a more regular basis.
For example, when to work outside Europe, dredging-personnel are stationed between 6 to 8 weeks followed by a resting-period of the same working-period.
When working in Europe, these time-schedules are even shorter varying from 1 to 2 weeks followed by a similar resting time.
Employment
The dredging industry in Europe employs some 8000 people, ashore and afloat. It employs indirectly a further 30.000, via supply and service companies.
The crews on dredging vessels are fully certified and are trained to high standards. All companies comply fully with international requirements and all other maritime safety rules in force. In addition some of the crew have formal qualifications as mechanics to enable them to cope with the operation of the complex machinery. In consequence their pay and conditions tend to be at the higher end of the scale for seafarers of EU nationality.
The industry offers outstanding job opportunities and is looking for suitable candidates.
Training and education
University level
- Delft University of Technology (NL)
- Ghent University (Fac. Soil Sciences), (B)
Colleges
- Terschelling Maritime Institute, NL
- Rotterdam 'Scheepvaart & Transport College', NL
- Hogeschool 'Utrecht', NL
- Antwerp 'Hogere Zeevaart School', B
Professional level
- Various vocational training courses, B + NL.
Functions on dredging vessels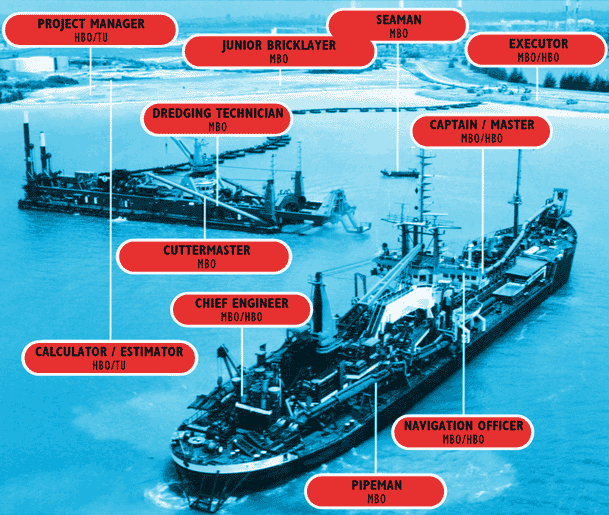 For specific job opportunities please consult the websites of
member-companies
.